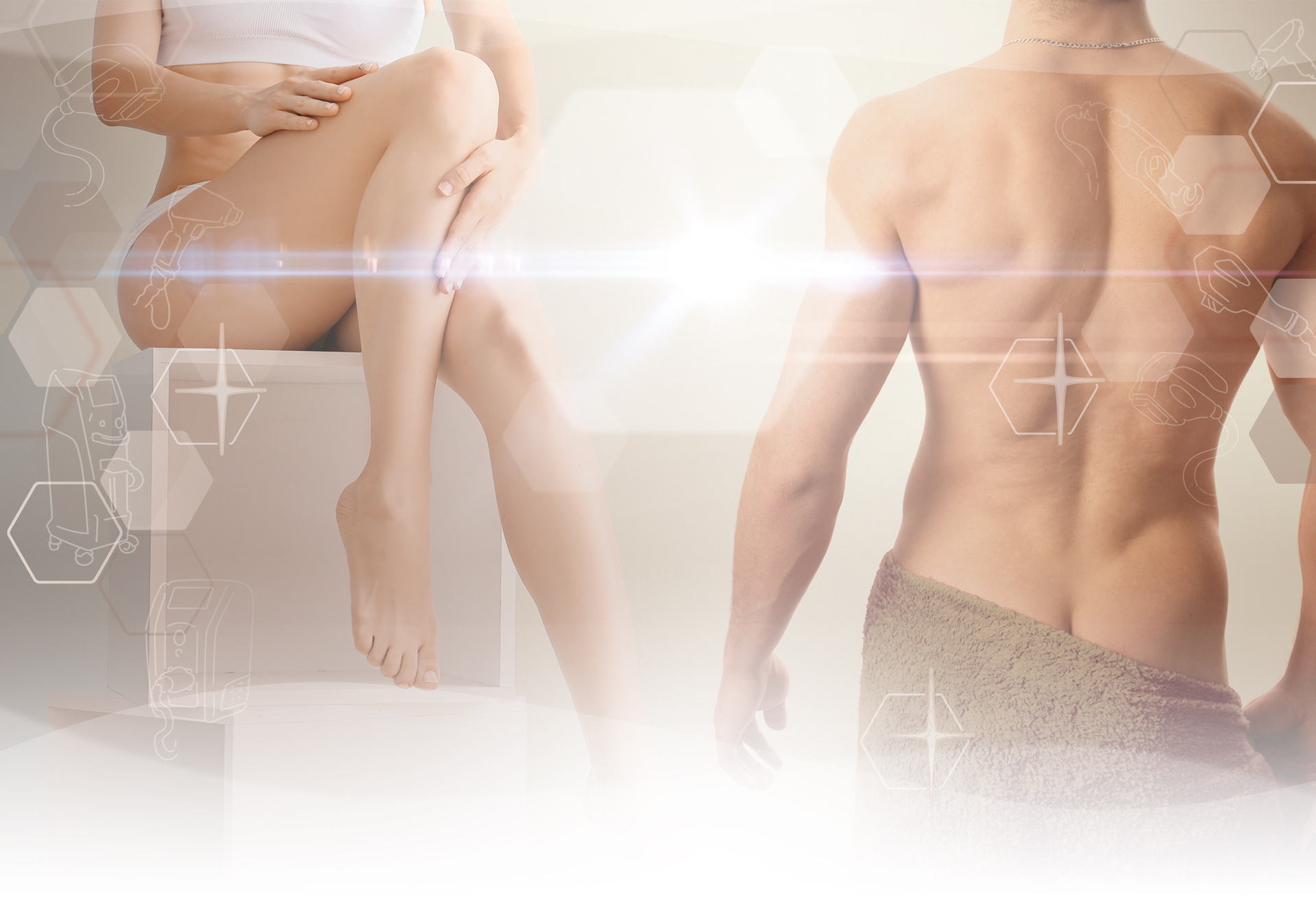 best service quality
Permanent*
hair removal
DARMSTADT
Schulstraße 18
64283 Darmstadt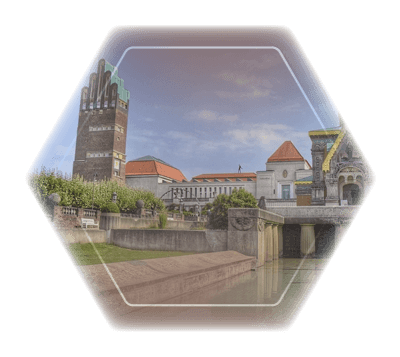 ★★★★★

Through years of experience
within the permanent hair removal*
we have become a professional at the
Hair removal with light established.
Reviews
service quality at Haarfreiheit
Haarfreiheit is your partner in permanent hair removal* using light and laser. We are equipped with all available technologies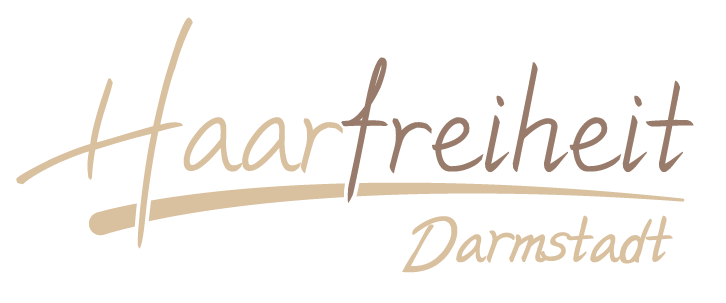 Adresse & Kontakt
Schulstraße 18
64283 Darmstadt

Haarentfernung
DAMEN
Haarentfernung
HERREN

Öffnungszeiten
| | |
| --- | --- |
| Montag | 8:00 – 22:00 |
| Dienstag | 8:00 – 22:00 |
| Mittwoch | 8:00 – 22:00 |
| Donnerstag | 8:00 – 22:00 |
| Freitag | 8:00 – 22:00 |
| Samstag | 9:00 – 17:00 |
| Sonntag | geschlossen |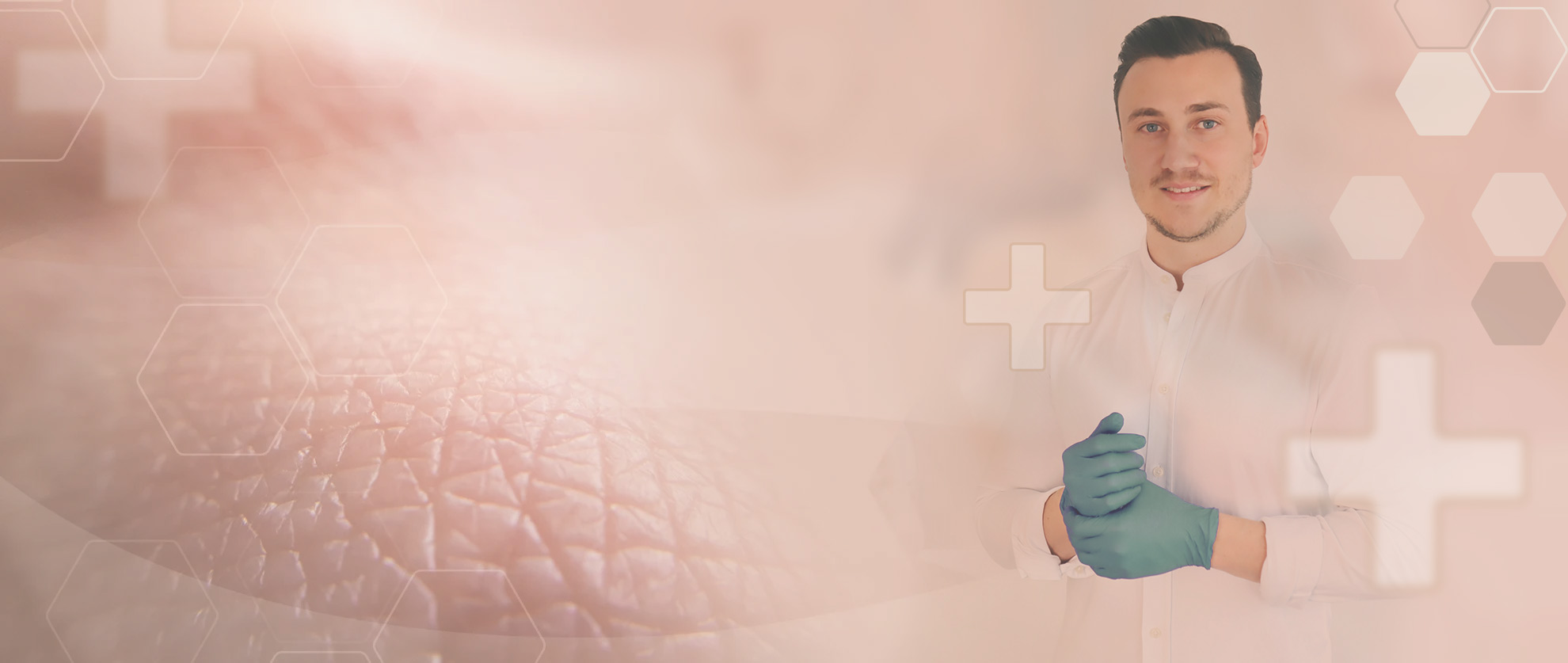 Ärztliche Zusammenarbeit
SKIN CONCEPT
Wir von Haarfreiheit setzen auf die Zusammenarbeit mit Dr. med. Frey und seinem Team. So können uns Experten als Ansprechpartner in medizinischen Fragen zur Seite stehen. Durch die langjährigen Erfahrungen unserer kooperierenden Ärzte im ästhetischen Bereich haben wir eine ausgezeichnete Hilfe bei der Einschätzung von Haut- und Haartypen sowie den damit einhergehenden Besonderheiten im Zusammenhang mit der Photoepilation.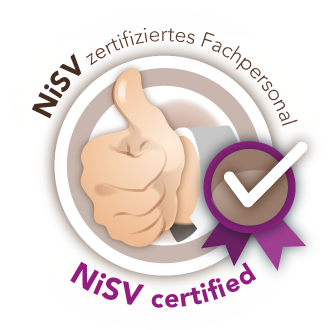 Unser Fachpersonal ist NiSV zertifiziert!
Die NiSV ist eine staatliche Verordnung zum Schutz vor schädlichen Wirkungen nichtionisierender Strahlung bei der Anwendung am Menschen.
Selbstverständlich ist unser Fachpersonal konform zu diesem Gesetz ausgebildet und zertifiziert. Die umfangreiche Ausbildung sorgt für eine sachgerechte Handhabung mit Technologien und sichert eine ordnungsgemäße Verantwortung und Aufklärung zum Thema dauerhafte Haarentfernung mittels Licht & Laser. So können Sie sich stets bei Haarfreiheit sicher und gut aufgehoben fühlen.
Vertrauen Sie auf unsere Expertise und Professionalität.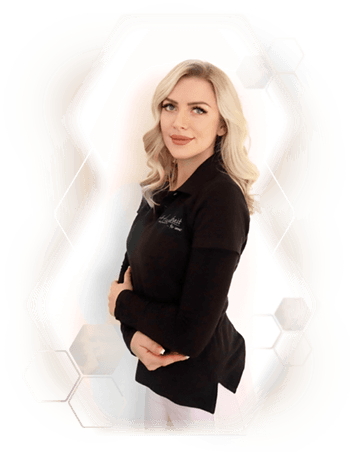 Saskia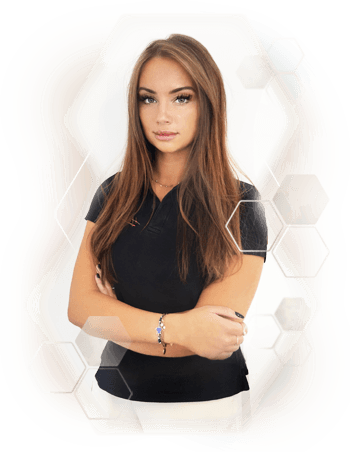 Anna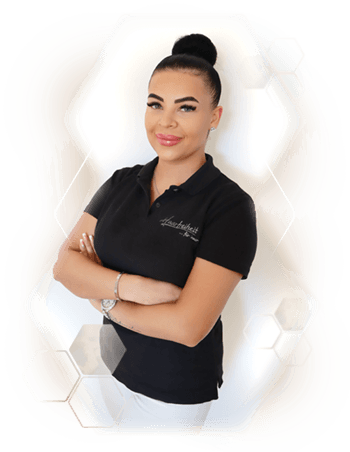 Ann-Cathrin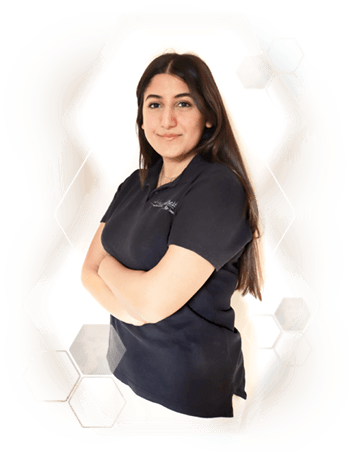 Felicia


IHR WEG ZUR DAUERHAFTEN* HAARFREIHEIT
Behandlungsablauf
Seidige und glatte Haut, und das immer*? Mithilfe der exklusiv bei uns erhältlichen XENOgel® Technology ist das schon lange kein Problem mehr. Rasieren, Epilieren oder Wachsen gehört somit der Vergangenheit an. Sowie Hautirritationen, Schmerzen oder auch eingewachsene Härchen.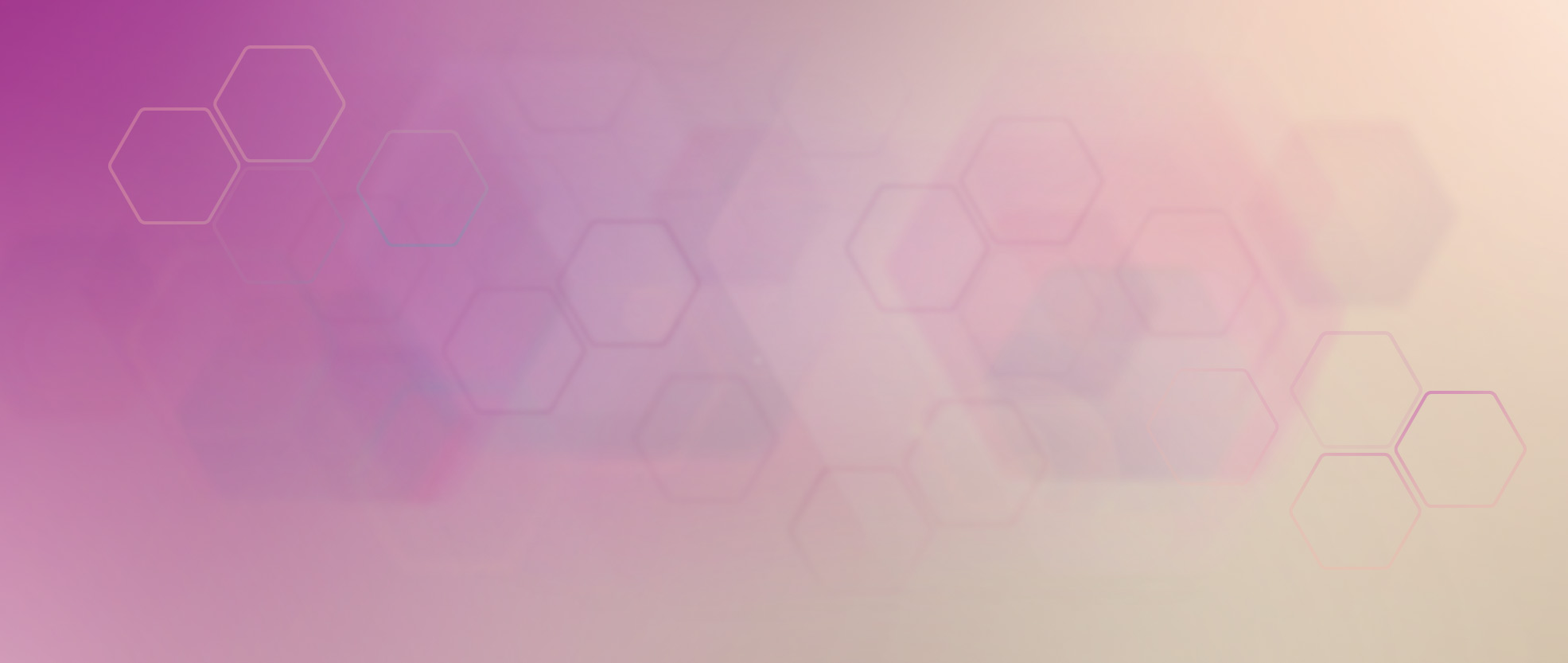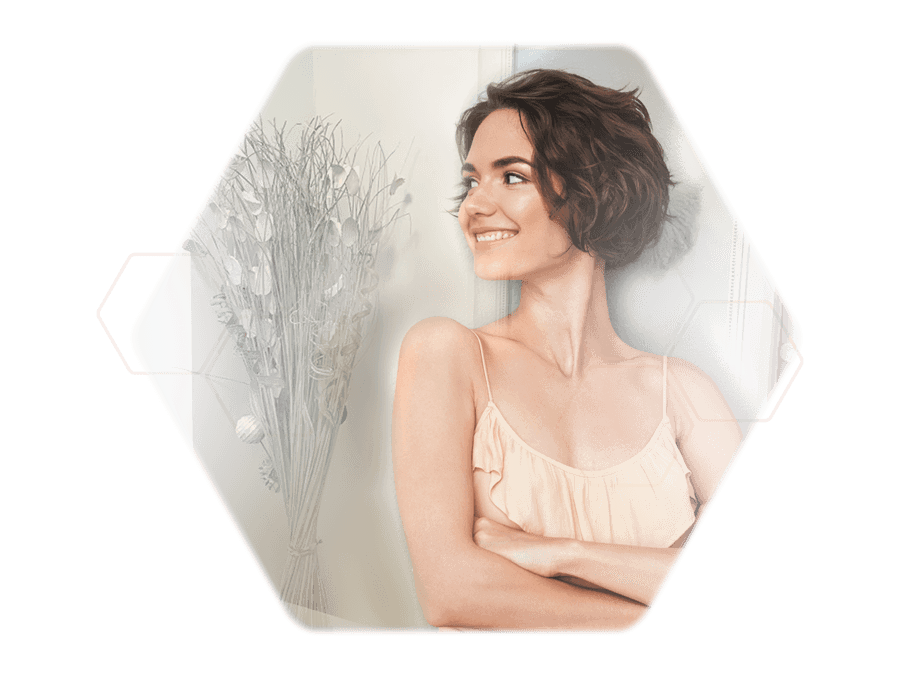 1. ZEIT ZUM ENTSPANNEN
In unseren Instituten schaffen wir eine entspannende Atmosphäre, damit Sie sich während der Behandlung vom Alltagsstress erholen können. Nehmen Sie sich die verdiente Auszeit und genießen Sie die Ruhe. Unsere Experten sorgen dafür, dass Sie sich wohl und entspannt fühlen, während Sie sich auf dem Weg zur dauerhaften Haarfreiheit befinden. Machen Sie es sich bequem und nutzen Sie diese Zeit, um sich zu erholen und neue Energie zu tanken.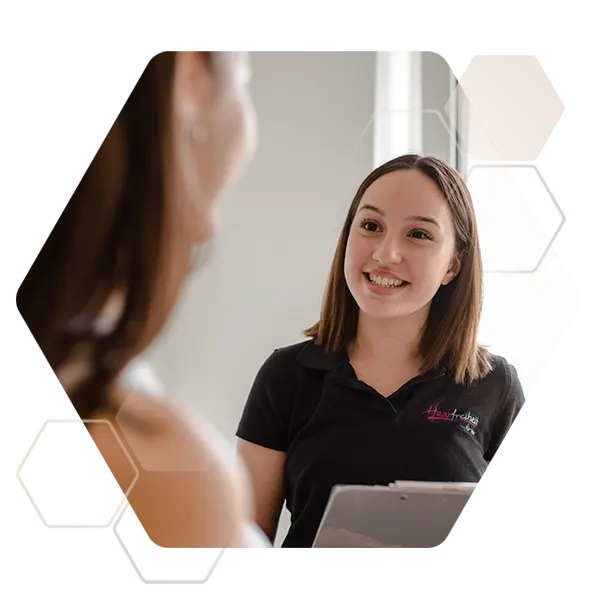 2. BERATUNGSGESPRÄCH: KOSTENLOSE AUSKUNFT ZUR DAUERHAFTEN HAARENTFERNUNG
Vor Ort haben Sie die Möglichkeit alle Ihre Fragen zu stellen zum Thema dauerhafte Haarentfernung*. Unser Fachpersonal wird Sie über die verschiedenen Technologien, die Vorteile der Haarentfernung mit der Licht- und Lasertechnologie sowie die Preise informieren. Melden Sie sich jetzt.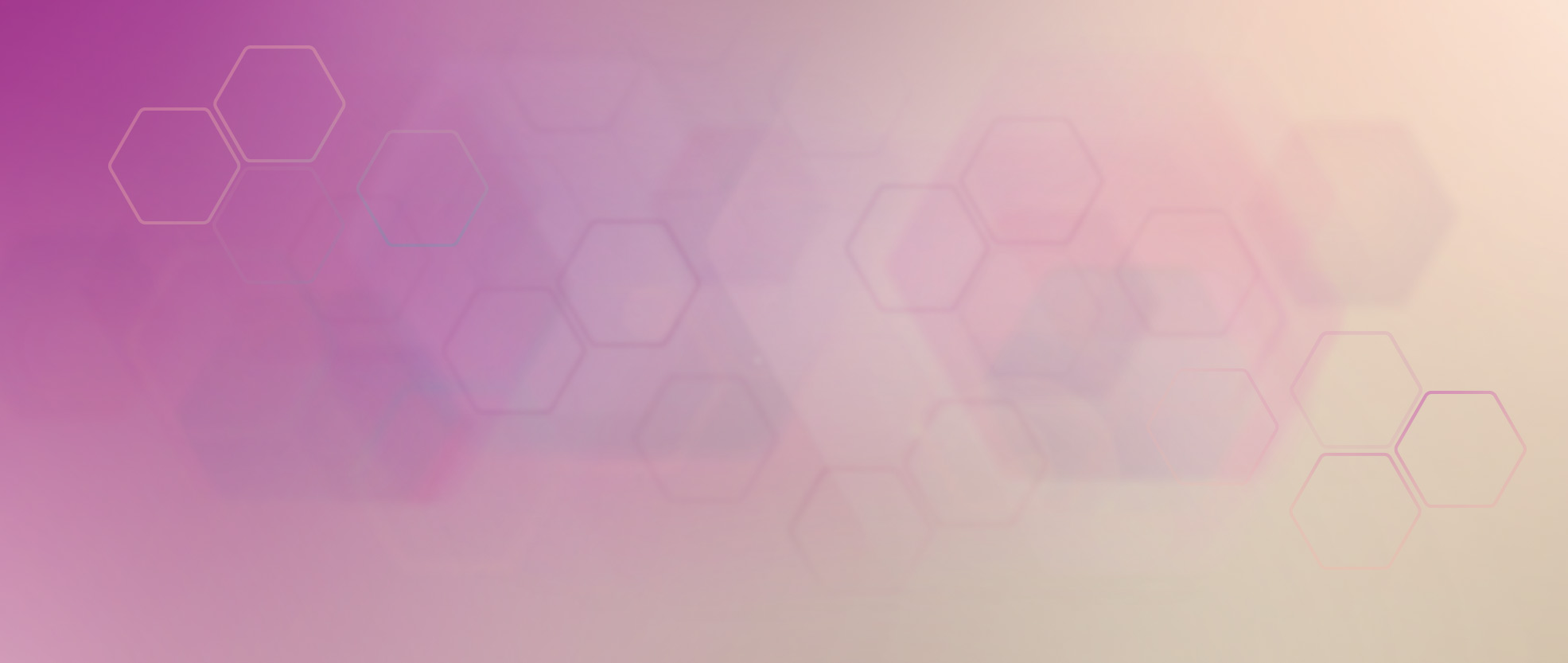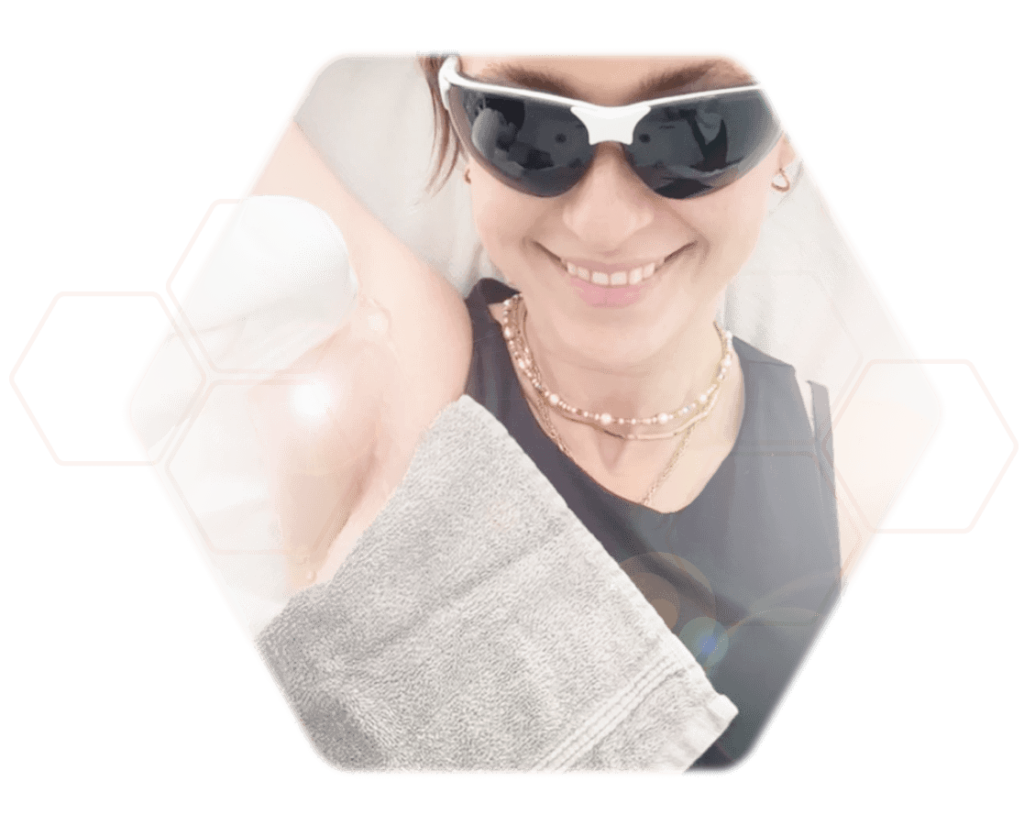 3. AUF IHRE WÜNSCHE ABGESTIMMT
Während des Beratungsgespräches wird Ihr Haarwuchs und auch Ihr Hauttyp analysiert, um optimale Ergebnisse mit der Behandlung zu erreichen. Die Behandlungen der dauerhaften Haarentfernung* wird jederzeit von geschultem Fachpersonal durchgeführt. Dieses erhält in unserer Haarfreiheit-Akademie regelmäßig Schulungen und Fortbildungen. Vereinbaren Sie heute einen Termin beim Experten.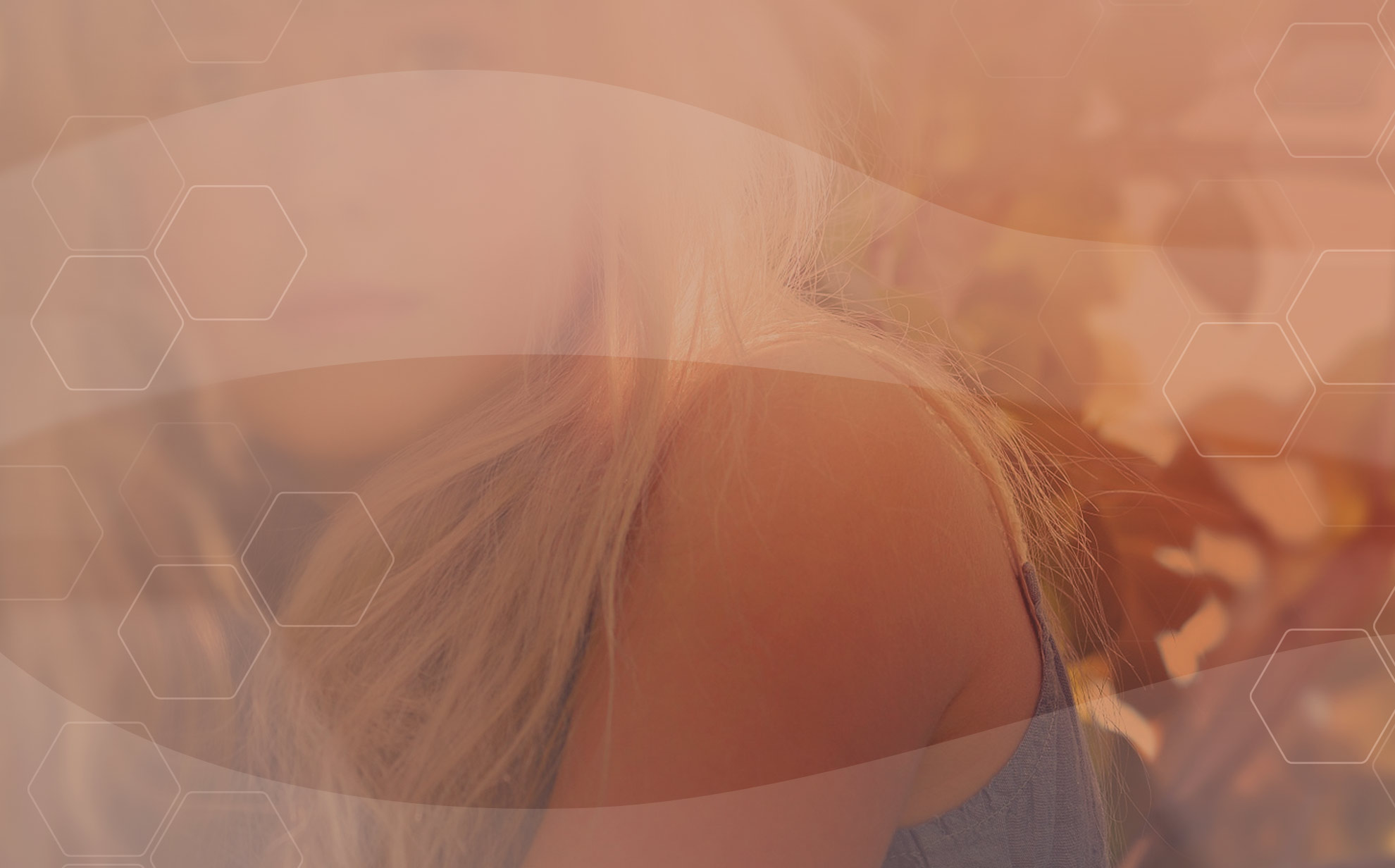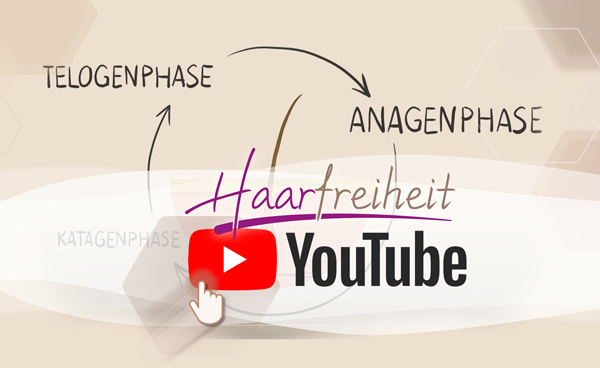 ABFOLGE DER BEHANDLUNG
Darum braucht eine permanente
Haarentfernung* mehrere Sitzungen
Während sich das Haar in der Wachstumsphase befindet, ist das Haar mit einer Haarwurzel verbunden, welche sie versorgt. In der darauffolgenden Ruhephase löst sich die Verbindung zwischen dem Haar und der Wurzel.
DIE PHASEN DES HAARWACHSTUMS
Während sich immer nur 10% der Haare in der sogenannten anagenen Phase befinden, verbleiben die restlichen 90% in der telogenen Phase, welche auch als Ruhephase bekannt ist. Ein Haar befindet sich zunächst ca. 4 ganze Wochen in der sogenannten Wachstumsphase, bevor es 9×4 Wochen in die Ruhephase wechselt. Somit hat jedes einzelne Haar seinen eigenen Zyklus. Wenn sich beispielsweise 1000 Haare auf der Körperfläche befinden, sind somit 100 davon in der aktiven Wachstumsphase und 900 in der Ruhephase. Da sich die jeweilige Körperstelle nach 4 Wochen in die Ruhephase begibt und die nächste Körperstelle aktiviert wird, wiederholen wir die Behandlungen dementsprechend. So wird gewährleistet, dass alle Haare in der aktiven Wachstumsphase behandelt werden.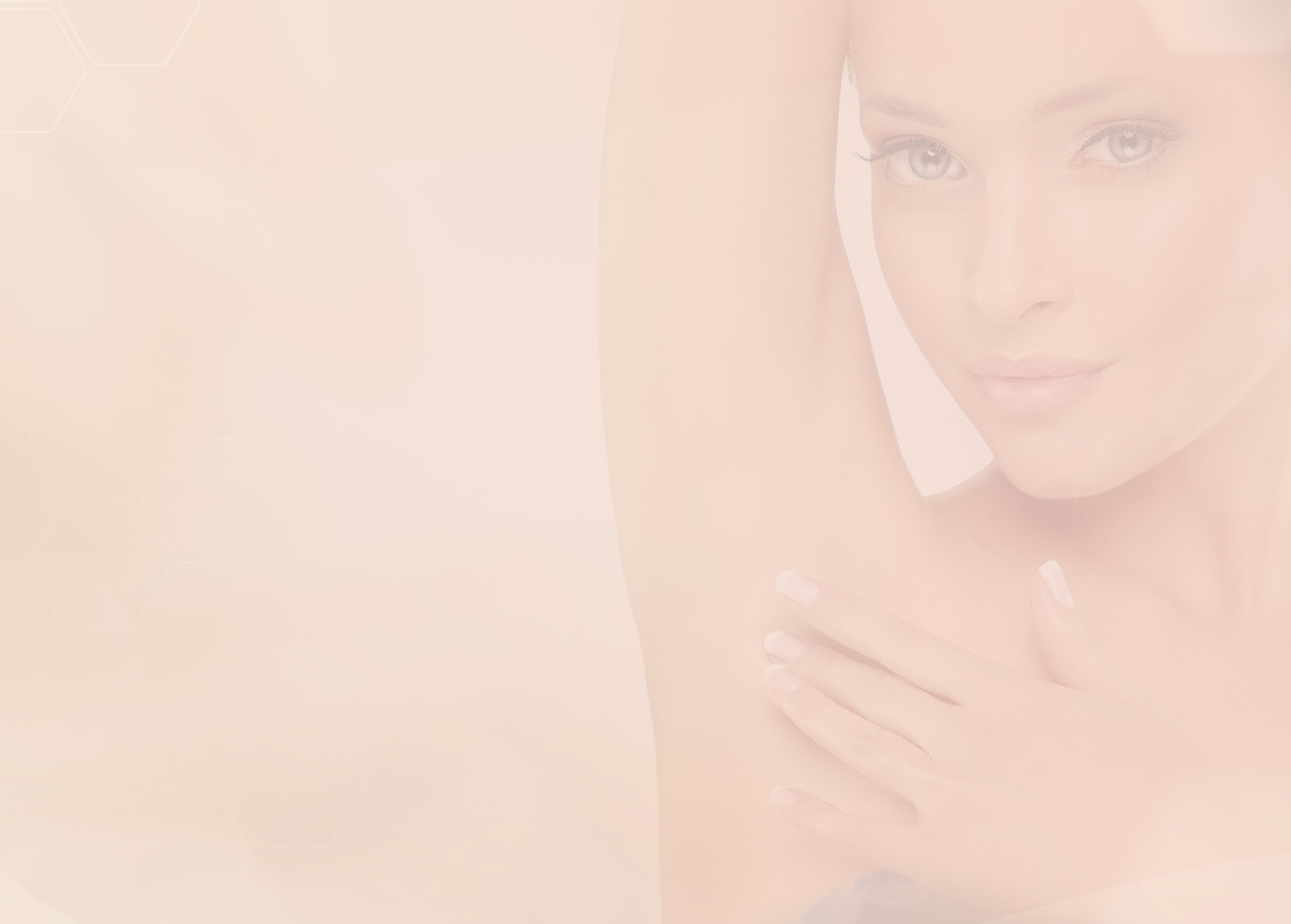 TIPPS ZUR DAUERHAFTEN HAARENTFERNUNG*
Die Optimierung der Behandlungsergebnisse können Sie selbst durch einfache Tipps gewährleisten
Do's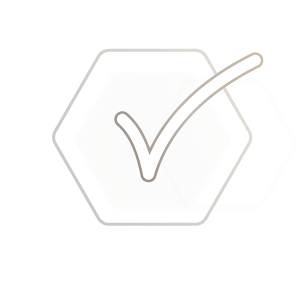 Achten Sie auf eine ausreichende Wasseraufnahme, um Faltenbildung zu vermeiden. Dadurch wirkt Ihre Haut besonders straff und glatt.
Denken Sie daran die zu behandelnden Körperregionen einen Tag vor der dauerhaften Haarentfernung* zu rasieren. Dabei spielt die Nass- oder Trockenrasur keine Rolle.
Schützen sie Ihre Haut mit passenden Cremes mit UV-Schutz. Intensive Sonneneinstrahlungen oder Sonnenstudio-Besuche sollten für den Zeitraum während der Behandlung vermieden werden.
Achten Sie auf die behandelten Stellen an Ihrem Körper. Behandlungserfolge sollten frühzeitig schon ersichtlich sein
Don'ts
Verzichten Sie 14 Tage vor Behandlungsbeginn auf Epilieren oder Wachsen beziehungsweise alle Methoden, die das Haar mitsamt seiner Wurzel entfernen (Sugaring & Zupfen)
Das gleiche gilt für Enthaarungscremes – diese sollten Sie zwei Wochen vor Beginn der Behandlung nicht mehr einsetzen
Besuche im Solarium oder intensive Sonneneinstrahlung sollten ebenfalls vermieden werden – durch UV-Strahlen bräunt die Haut und reichert so den Farbstoff Melanin in der Haut an. Dieser befindet sich aber auch in den Haaren und spielt bei der Haarentfernung mit Licht eine wichtige Rolle. So kann, abhängig von der eingesetzten Technologie, das Ergebnis beeinflusst werden
Hair Removal
WOMEN
Hair Removal
MEN

Opening hours
| | |
| --- | --- |
| Monday | 8:00 – 22:00 |
| Tuesday | 8:00 – 22:00 |
| Wdnesday | 8:00 – 22:00 |
| Thursday | 8:00 – 22:00 |
| Friday | 8:00 – 22:00 |
| Saturday | 9:00 – 17:00 |
| Sunday | closed |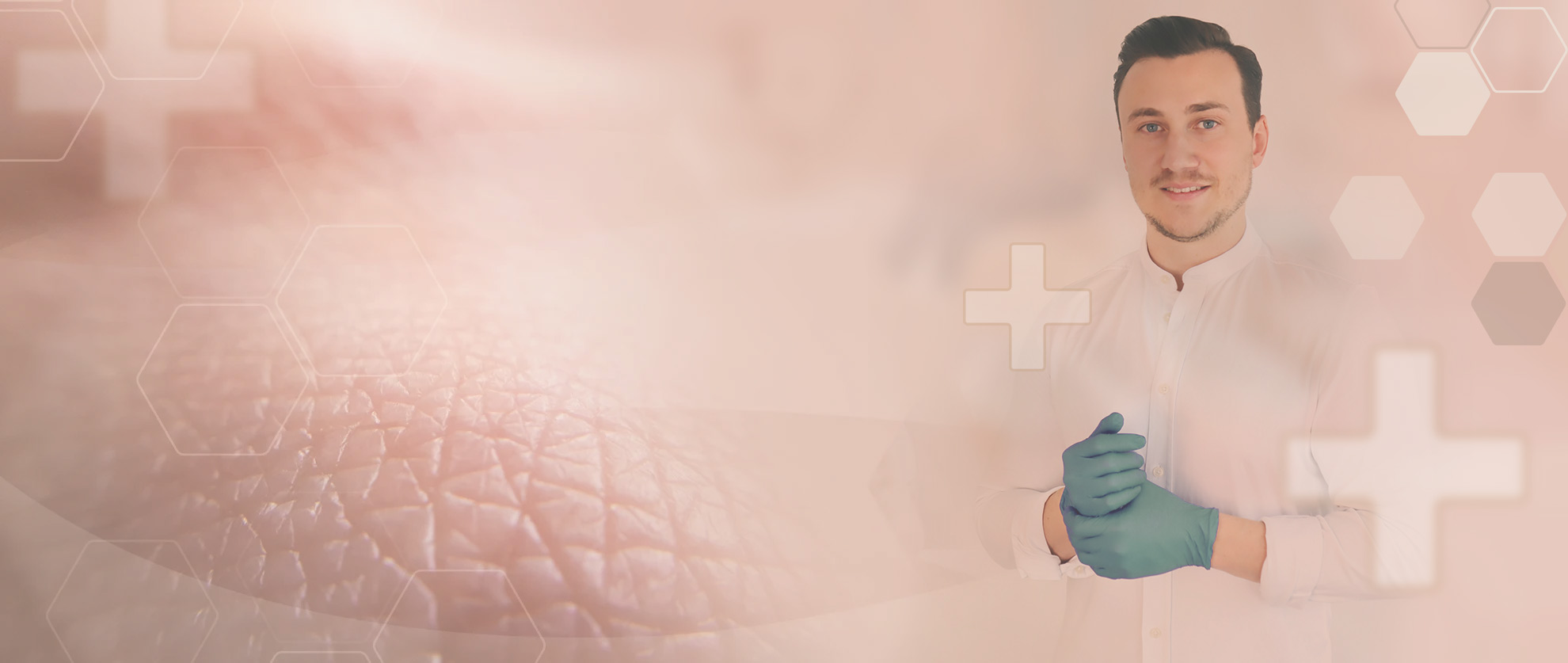 medical cooperation partner
SKIN CONCEPT
The medical team of SKIN CONCEPT supports us as a cooperation partner in all medical aspects of permanent hair removal*. Among other things, they take care of the promotion of our specialist staff in the field of hair removal with the help of light and laser. This allows us to offer you professional advice and treatment in order to achieve the best possible results.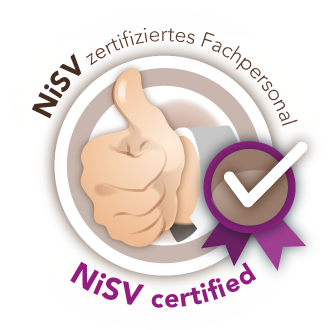 Our specialized NiSV certified
The NiSV is a state ordinance for protection against harmful effects of non-ionizing radiation when applied to humans.
Of course, our specialist staff is trained and certified in accordance with this law. The comprehensive training ensures proper handling of technologies and ensures proper responsibility and education on the subject of permanent hair removal by means of light & laser. So you can always feel safe and in good hands with hairlessness.
Trust in our expertise.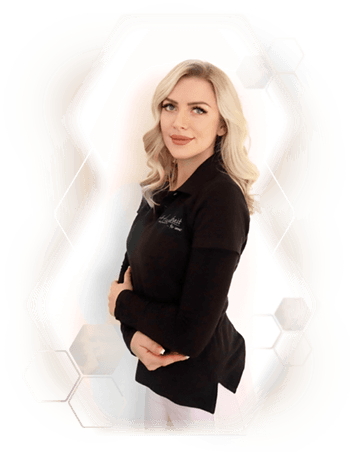 Saskia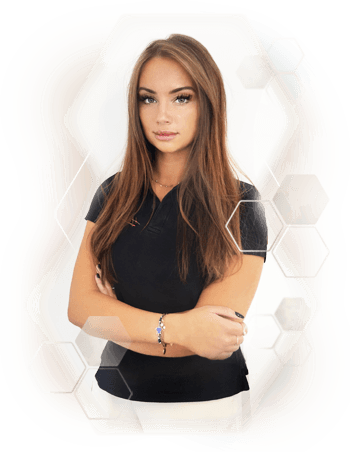 Anna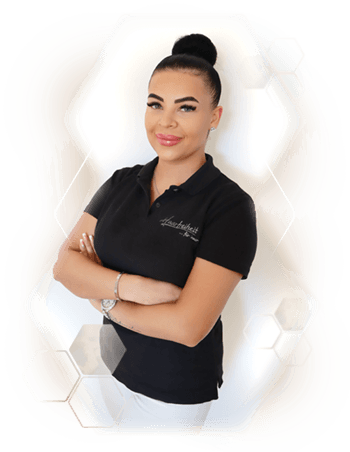 Ann-Cathrin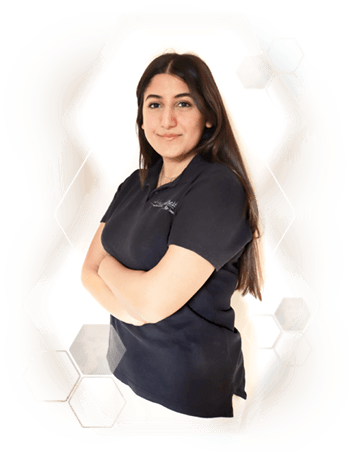 Felicia


YOUR WAY TO PERMANENT* HAIRLESSNESS
Treatment procedure
Silky and smooth skin, and always*? With the help of XENOgel® Technology, which is exclusively available from us, this is no longer a problem. Shaving, epilating or waxing is a thing of the past. As well as skin irritations, pain or even ingrown hairs.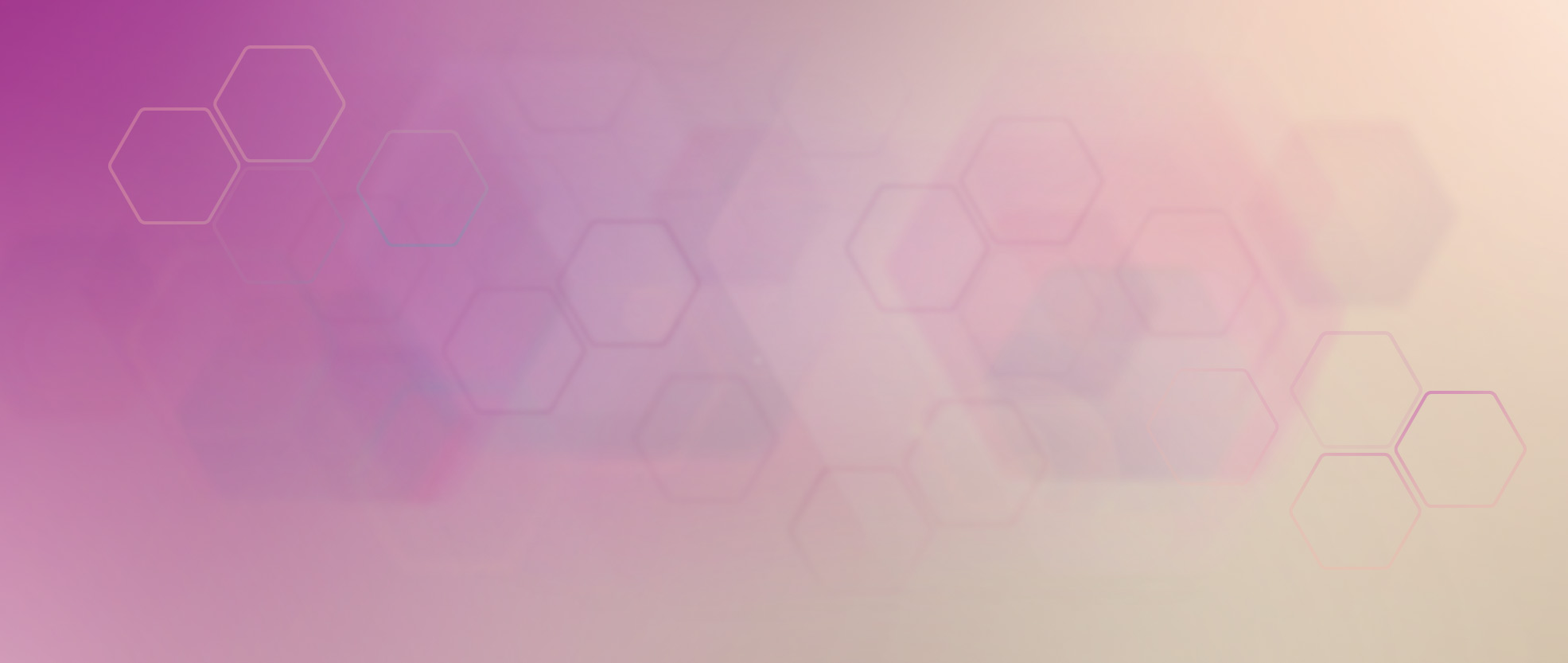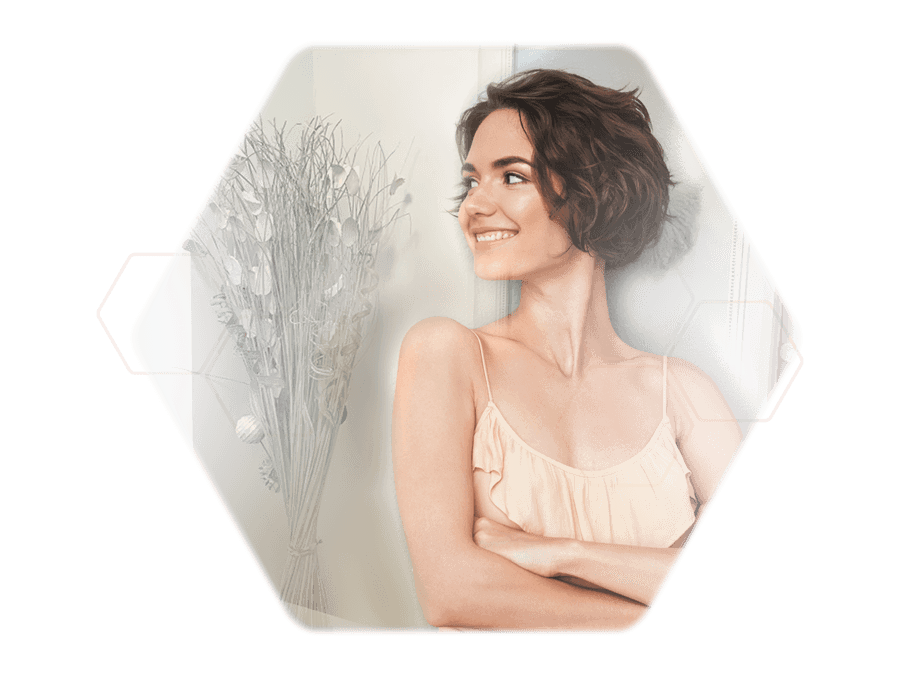 1. TIME TO RELAX
In our institutes, we create a relaxing atmosphere for you to unwind from the stresses of everyday life during the treatment. Take the well-deserved break and enjoy the tranquility. Our experts ensure that you feel comfortable and relaxed as you embark on the journey to permanent hair removal. Get comfortable and make the most of this time to rejuvenate and recharge.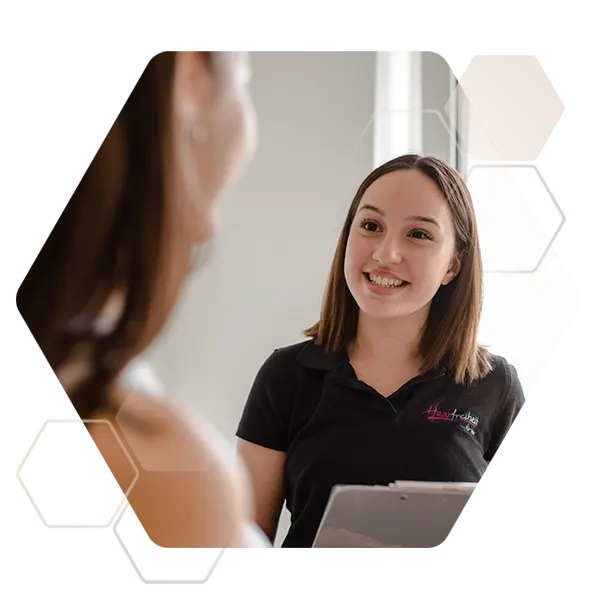 2. CONSULTATION: FREE INFORMATION ON PERMANENT HAIR REMOVAL
On site you have the opportunity to ask all your questions about permanent hair removal*. Our specialists will inform you about the different technologies, the benefits of hair removal with light and laser technology as well as the prices. Come in now.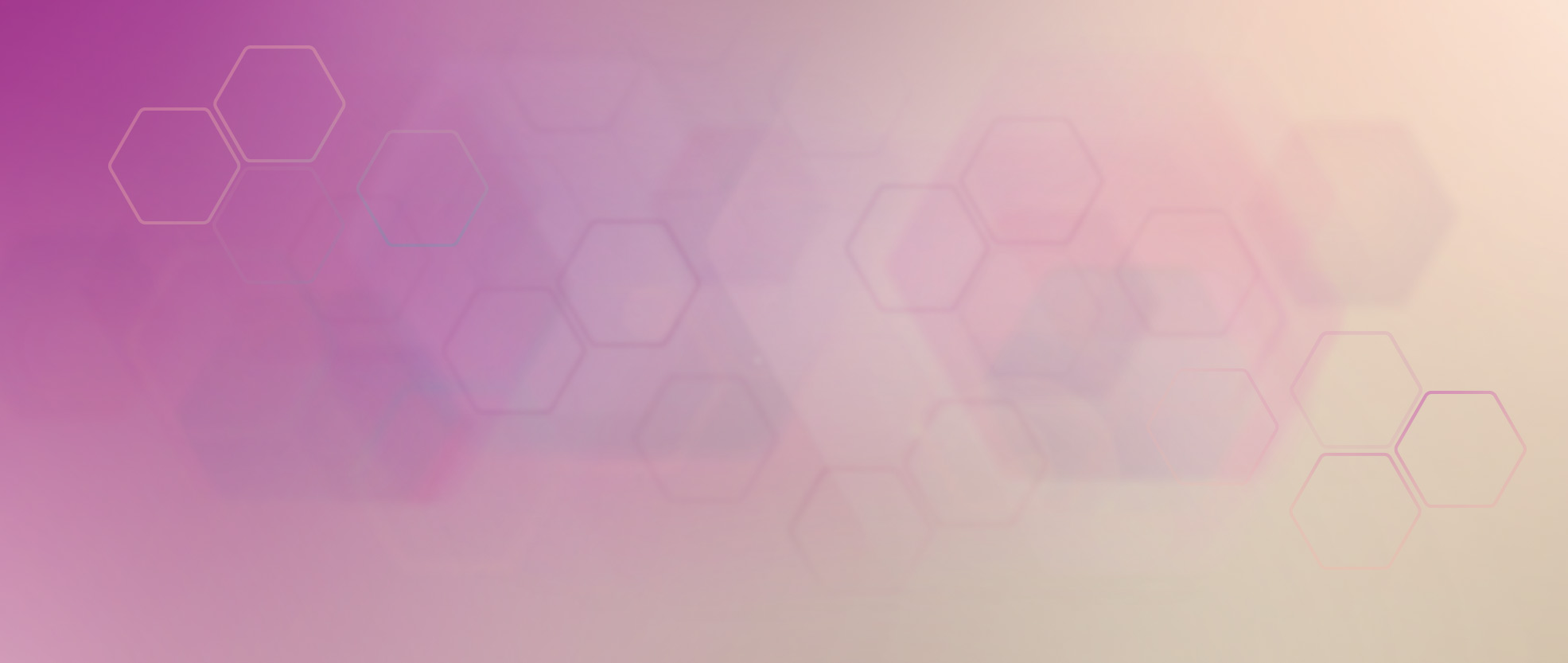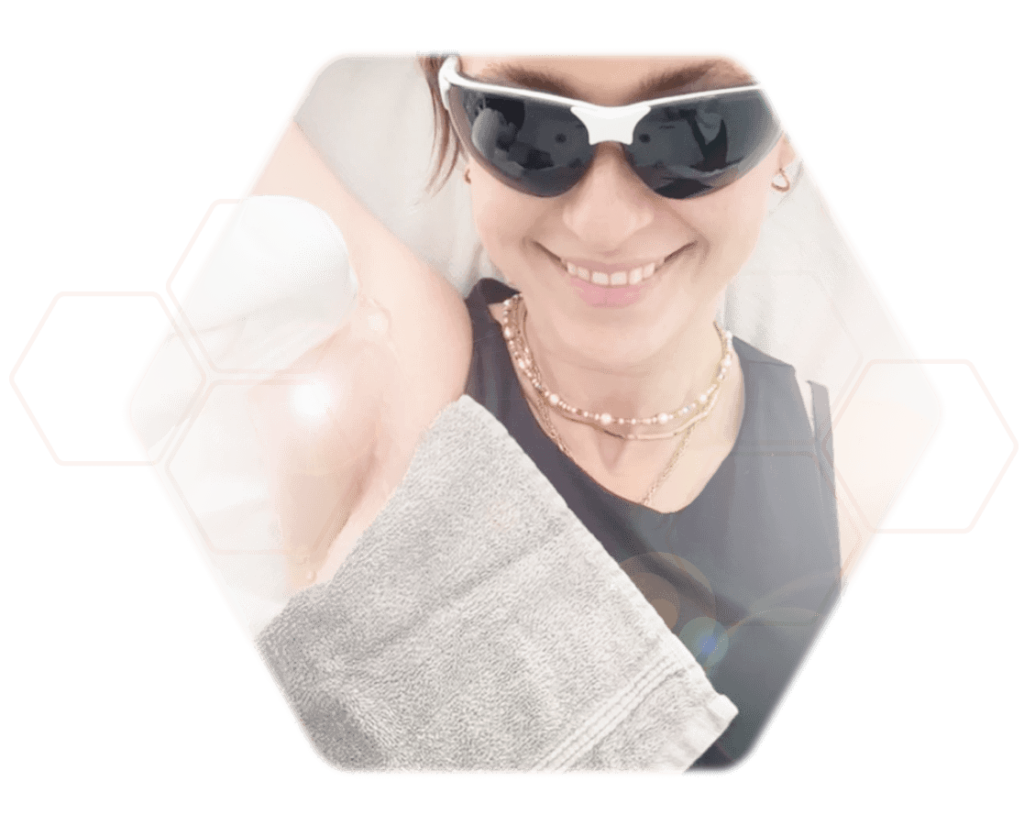 3. TAILORED TO YOUR WISHES
During the consultation, your hair growth and also your skin type will be analyzed to achieve optimal results with the treatment. Permanent hair removal* treatments are performed by trained professionals at all times. This receives regular training and education in our Hair Freedom Academy. Make an appointment with the expert today.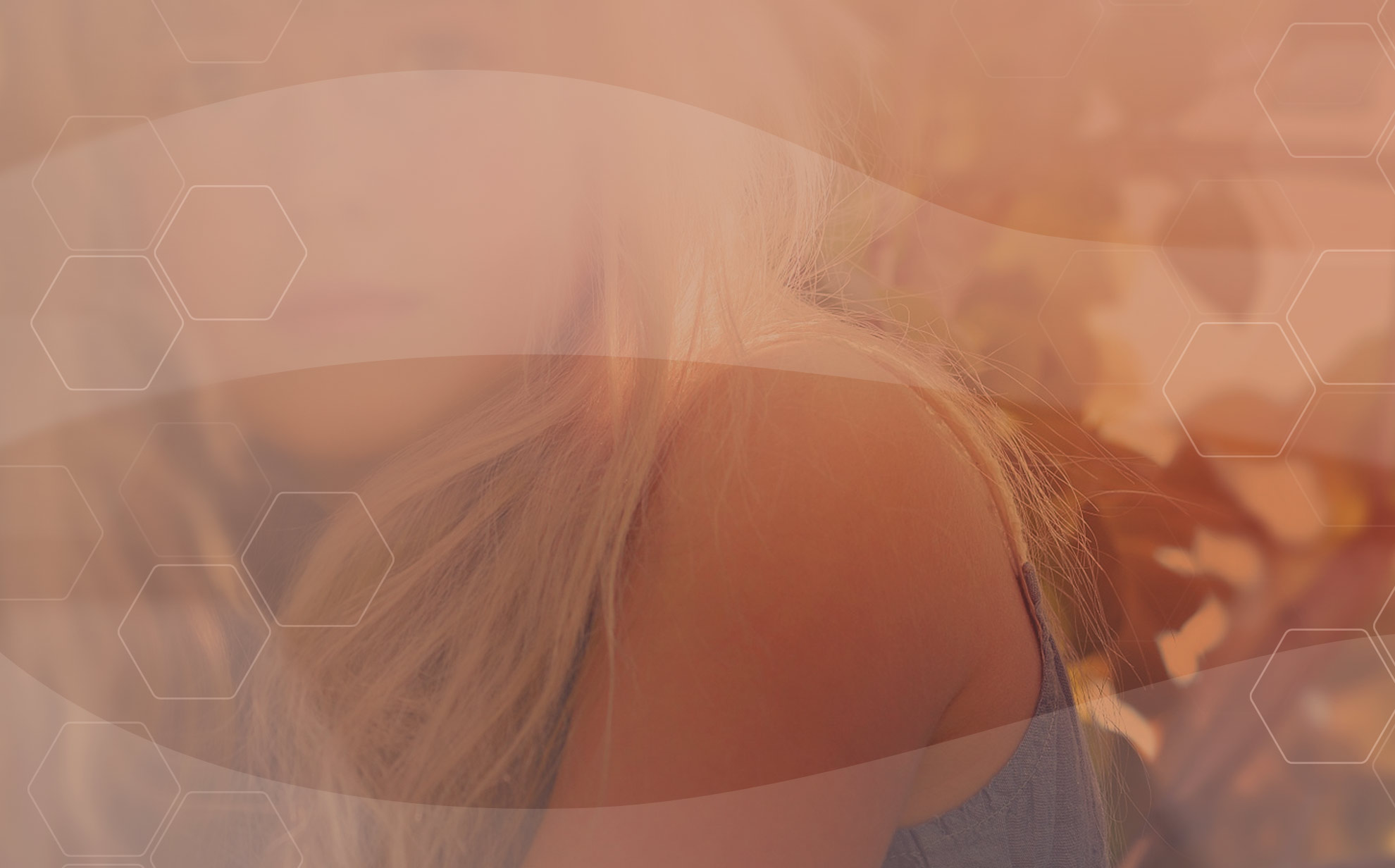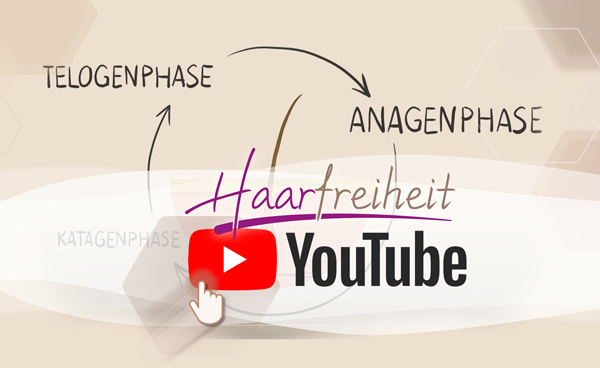 SEQUENCE
OF TREATMENT
That is why a permanent
Hair removal* several sessions
While the hair is in the growth phase, the hair is connected to a hair root, which supplies them. In the subsequent resting phase, the connection between the hair and the root loosens.
THE PHASES OF HAIR GROWTH
While only 10% of hairs are ever in the so-called anagen phase, the remaining 90% remain in the telogen phase, which is also known as the resting phase. A hair is first in the so-called growth phase for about 4 whole weeks, before it changes to the rest phase for 9×4 weeks. Thus, each individual hair has its own cycle. For example, if there are 1000 hairs on the body surface, 100 of them are thus in the active growth phase and 900 in the resting phase. As the respective body part goes into the resting phase after 4 weeks and the next body part is activated, we repeat the treatments accordingly. This ensures that all hairs in the active growth phase are treated.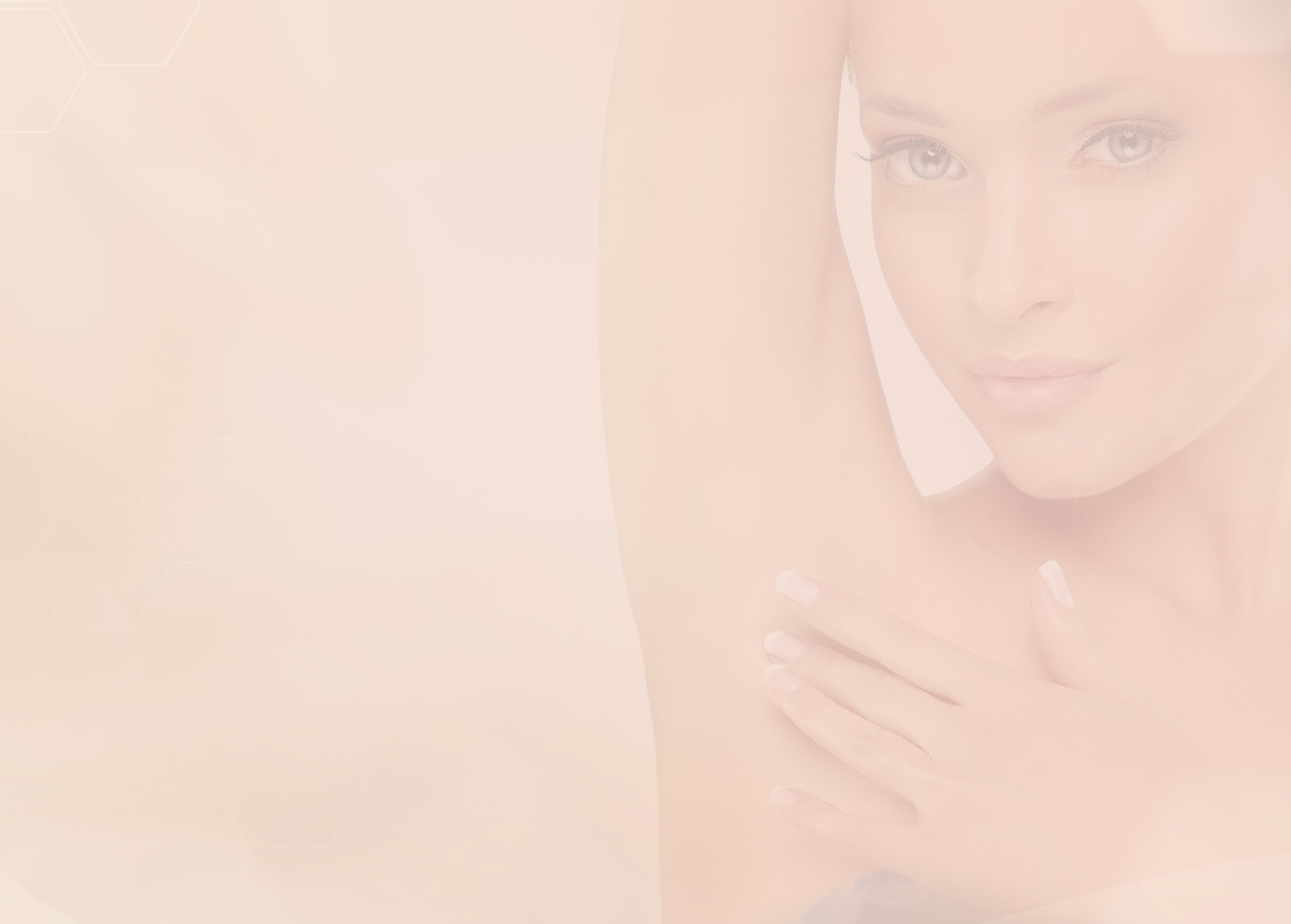 TIPS FOR PERMANENT HAIR REMOVAL *
You can ensure the optimization of the treatment results by yourself with the following simple tips
Do's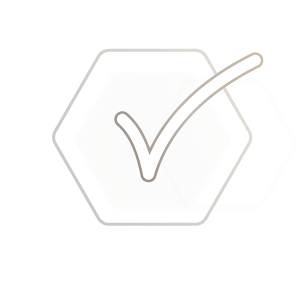 Make sure you absorb enough water to avoid wrinkles. This makes your skin particularly firm and smooth.
Remember to shave the body areas to be treated one day before permanent hair removal*. The wet or dry shave does not matter.
Protect your skin with matching creams with UV protection. Intensive sun exposure or tanning salon visits should be avoided for the period during treatment.
Pay attention to the treated areas on your body. Treatment successes should be evident at an early stage
Don'ts
Do not use epilation or waxing 14 days before the start of treatment or any method that removes the hair and its root (sugaring & plucking)
The same applies to depilatory creams – you should stop using them two weeks before the start of treatment
Visits to the solarium or intense sun exposure should also be avoided – UV rays tan the skin and thus enrich the dye melanin in the skin. However, it is also found in the hair and plays an important role in hair removal with light. Depending on the technology used, the result can be influenced
Privacy Policy
"By submitting this form, I agree that my details from the contact form may be collected and processed in order to respond to my inquiry. The data will be deleted after your request has been processed. Note: You can revoke your consent for the future at any time by sending an e-mail to info@haarfreiheit-mannheim.de. Detailed information on the handling of user data can be found in our privacy policy**."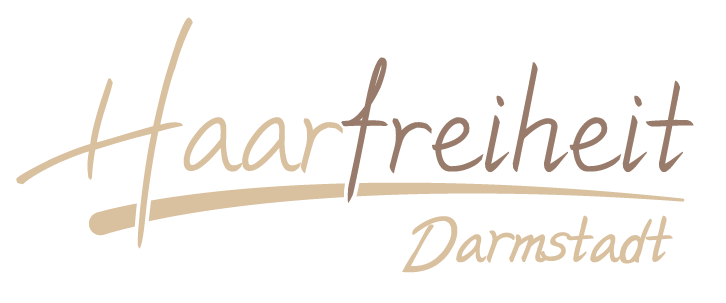 Schulstraße 18
64283 Darmstadt