Hair removal has long been in fashion
Enjoy your femininity
For more than 20 years, it has been indispensable for many women: to depilate the bikini zone and the intimate area. First, the hair disappeared in the bikini zone. This is more than understandable. Because hair that looks out at the side of the swimsuit or bikini looks unaesthetic and conveys an unhygienic image. However, this trend has not stopped with the bikini zone. Because the hair also grows further inside the area of Venus Hill and beyond.
The hair is bothersome in many situations
Whether on holiday at the beach, in the swimming pool or just at home in your own four walls, hair in the bikini zone and in the intimate area is annoying and not beautiful to look at. More and more women therefore want to rid their body of bothersome hair growth. Enjoy not only a permanently* hairless bikini zone on the beach, but also in all life situations and say goodbye to itching. Hair removal with light and laser at your expert in Mannheim make it possible.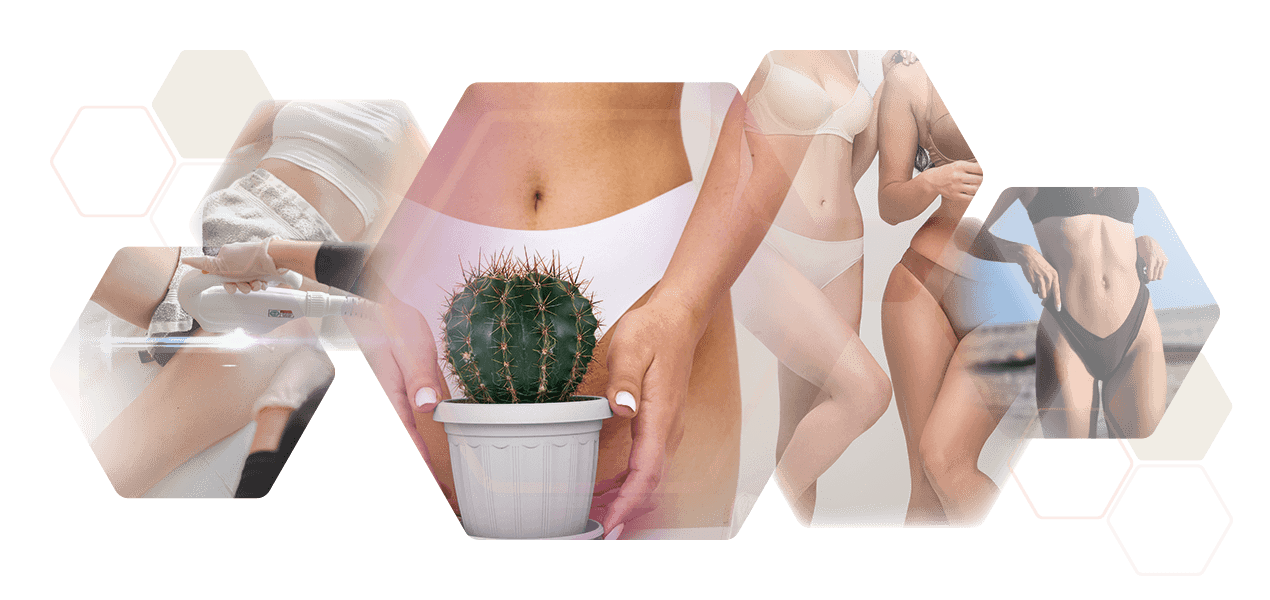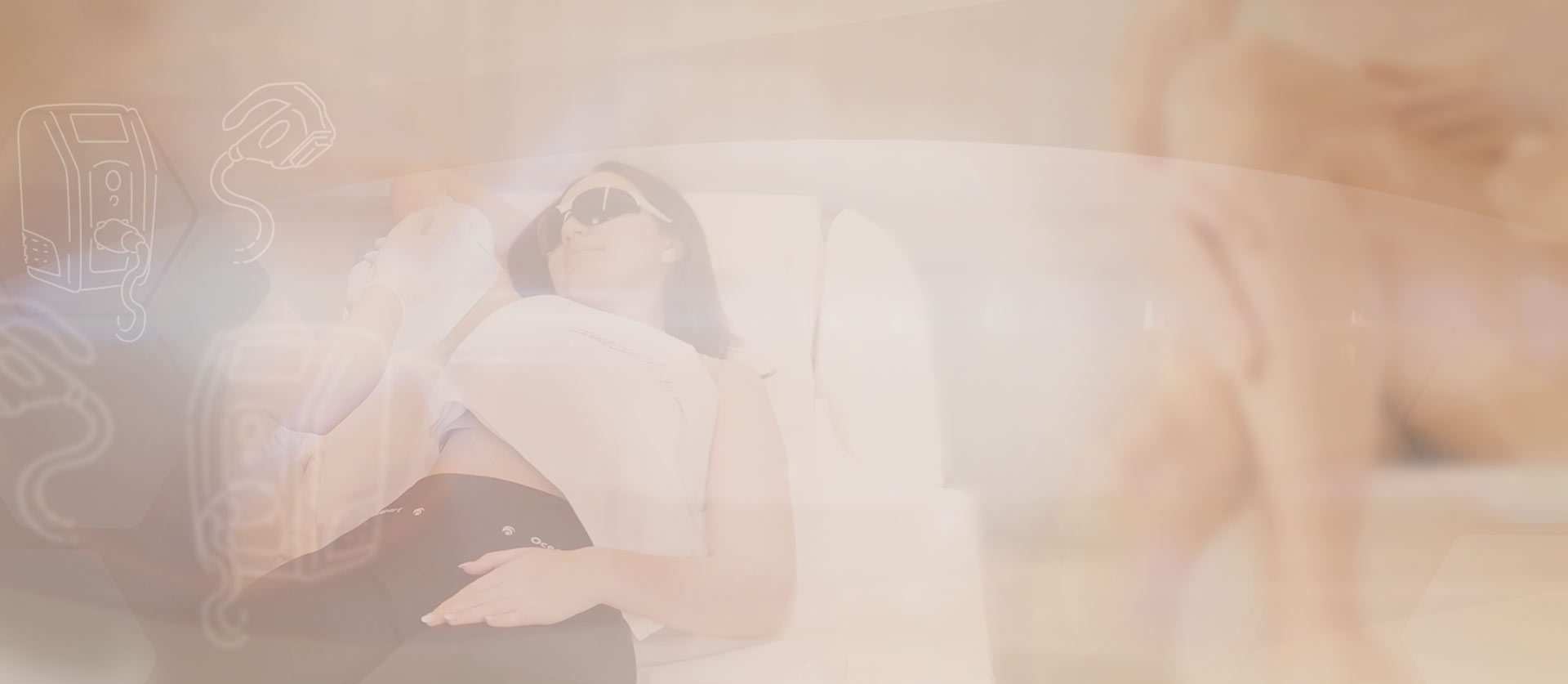 What should happen to pubic hair?
There are various options available for removing hair in this sensitive area. One can distinguish between temporary methods such as shaving or waxing and the permanent method.
Removing hair with a shaver
So, ranging from strong hair reduction to complete removal, there are also many intermediate options. Many women resort to the classic method of shaving. In the intimate or bikini area, wet shaving is often used, combined with regular showering. Shaving foam is applied to the delicate skin and hair of the intimate area and then carefully removed. This caution is necessary as sharp razors can quickly lead to injuries in the intimate area. Additionally, stubble forms shortly after, and the delicate process must start all over again.
Hair removal in the intimate area with wax
Waxing, also known as waxing, provides longer-term results in this area, but it also needs to be repeated every 4 weeks. Irritated skin is not uncommon with shaving. Ingrown hairs are not only unsightly but can also become infected, leading to itching and uncomfortable side effects.
Pimples and inflamed skin areas in the intimate area
Inflamed hair follicles
Pimples in the intimate area of women are often the result of inflamed hair follicles or the formation of inflammatory pustules due to ingrown hairs. These processes are exacerbated by repeated shaving, waxing, or epilation. Ingrown hairs occur when hair grows beneath the skin after removal, leading to an inflammatory reaction. The redness of the affected areas results from increased blood flow to the inflamed areas.
Measures against inflamed pimples in the intimate area
The inflamed pustules can be painful and worsen if squeezed or manipulated. Preventive measures to avoid ingrown hairs and inflammation include regular gentle exfoliation of the skin and wearing breathable clothing. In the case of recurring or highly inflamed pimples in the intimate area, consulting a dermatologist or gynecologist is recommended to ensure appropriate diagnosis and treatment. To prevent hairs from becoming ingrown and causing inflammation in the first place, opting for permanent* intimate hair removal is the right choice.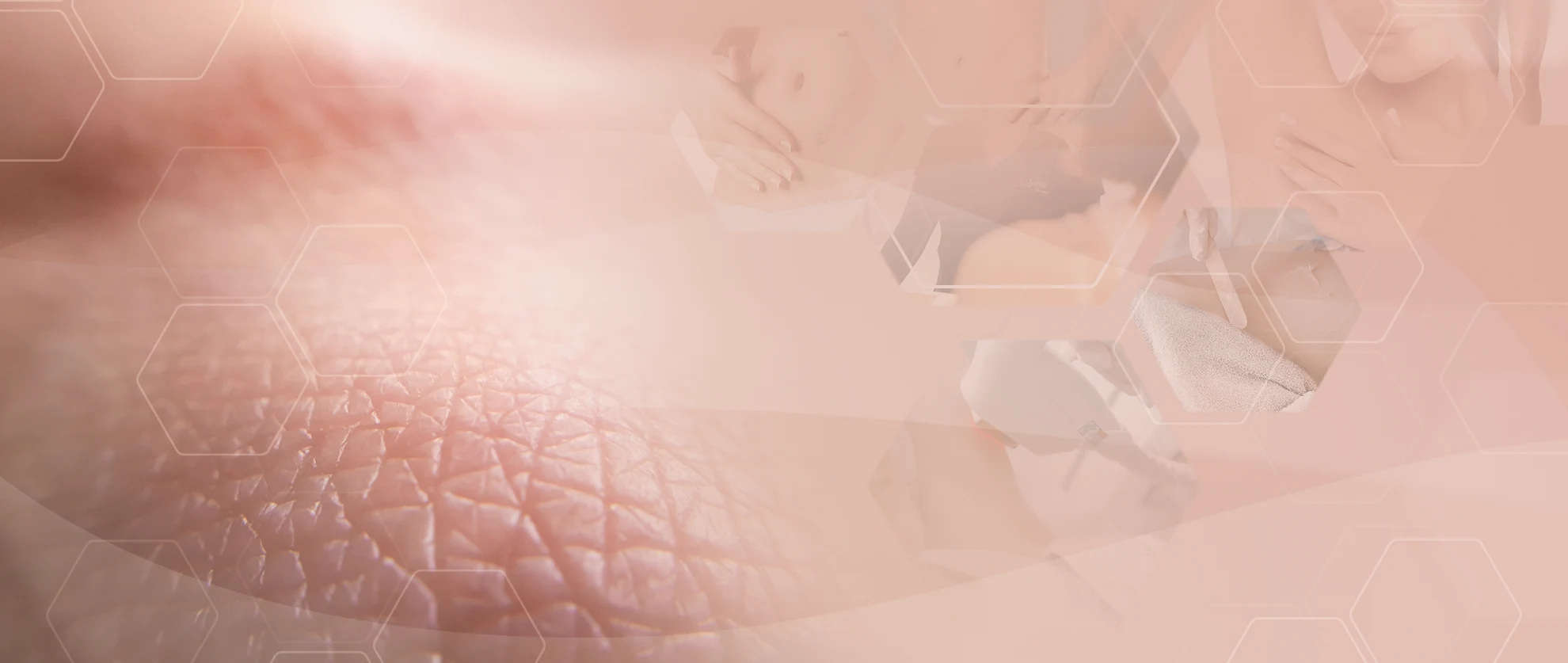 Removing hair from the intimate area without pimples and without time-consuming efforts
Permanent intimate hair removal
Permanent intimate hair removal for women not only offers a smooth and aesthetic appearance but also provides a long-term solution to annoying issues like pimples after shaving and ingrown hairs. These uncomfortable side effects of conventional methods are a thing of the past with permanent intimate hair removal. This way, women can benefit not only from a smooth intimate area but also from an improved quality of life. Moreover, a significant amount of time can be saved, as the effort required for daily shaving or regular waxing appointments is eliminated.
Permanent removal of pubic hair with light
Laser hair removal using light is gaining popularity due to its painless nature and the potential for achieving permanent* results. Our advanced technologies allow for gentle and effective hair removal without irritating the skin or causing unpleasant reactions. A smooth and well-groomed appearance at all times is achievable through permanent* light-based hair removal with Haarfreiheit in Mannheim. Whether you opt for IPL hair removal in the intimate area, laser treatments, or the innovative XENOgel® Technology, you're in the right place with us in Mannheim. We offer all the available technologies on the market for permanent* light-based hair removal.
Hygiene at all times
Why is hygiene so important?
Especially the intimate area and the bordering bikini line are very sensitive areas. Therefore, these enjoy special protection especially with regard to hygiene. Lack of hygiene means above all the accumulation of bacteria. These in turn can lead to skin redness, inflammation or other unpleasant phenomena in this sensitive area. Bacteria can adhere particularly well to hair. Therefore, it is a sensible decision to simply remove hair so as not to give bacteria any room.
Freedom – in every situation
With the help of hair removal with light, you no longer have to worry about unwanted hairs. Feel free to make every decision in your daily life. Go safely to the swimming pool or sauna. We can help you, especially in the hard-to-reach areas. Get to know photoepilation, whether in the form of XENOgel® Tehnology, SHR, IPL or laser hair removal and let yourself be convinced to experience your spontaneity. Safety is the top priority in every treatment. Feel comfortable and well looked after thanks to our professionalism and years of experience.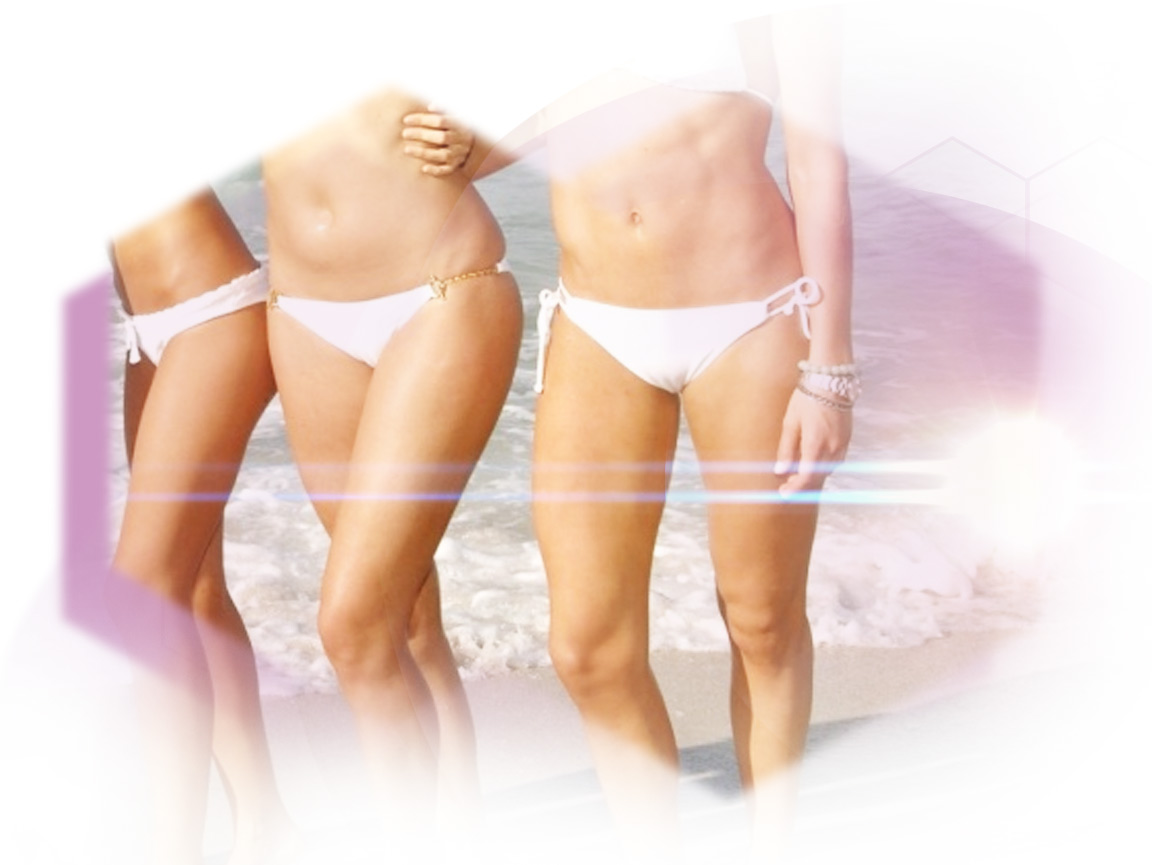 What is the best way to get the intimate area hair free?
No more pain or shaving
There are many other options for hair removal in the bikini zone and in the intimate area. Most are only temporary and may have unpleasant side effects. The bikini and intimate zones are particularly difficult and sensitive areas for hair removal.
When working with methods such as waxing or sugaring, skin injuries and severe pain can occur. Types such as the classic shave usually cause irritation of the skin. Put an end to this and say goodbye to the annoying hair removal methods.
Get rid of hair permanently*
Say goodbye to ingrown hairs in the intimate area
What's particularly unpleasant about common temporary hair removal methods like shaving or waxing is not just the sheer loss of time. Rather, ingrown hairs are the biggest problem. This is particularly unpleasant and annoying in the intimate area. As soon as the hairs grow back, which they inevitably do, most of them get lost under the skin and do not find their way to the surface. At best, peeling is necessary here to remove the top layer of skin to free the hair. Often, however, inflammation occurs and the hair can become encapsulated. Reddening of the skin is then not uncommon. The accompanying itching likewise not. In sensitive areas, such as the genital area, ingrown hairs are therefore particularly annoying and unpleasant.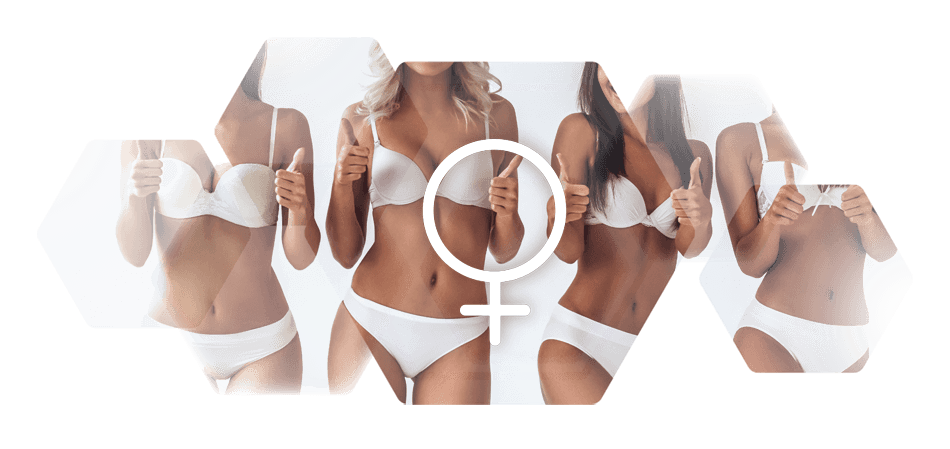 Put an end to itching
With most conventional hair removal methods, there are also major problems, such as itching, ingrown hair or pimples. Especially in the sensitive intimate area, dirt particles deposited in the hair can trigger inflammation. A hairy intimate area then not only looks unsightly, but is usually also perceived as unhygienic.
To make you feel perfectly comfortable and pure in this very private area, we offer you with our professional photoepilation the perfect solution. Of course, all requests are handled discreetly by our specialist staff. The treatment is skin-friendly and effective at the same time.
You have the choice of which area you want to permanently rid* of hair growth. For example, you can only remove the hair in the bikini zone. You can also leave an elongated strip of hair directly at the Venus Hill. If you are interested in removing the hair completely, it is also possible to remove the hair on the labia itself.
What is the procedure of hair removal in the intimate area at Haarfreiheit Mannheim?
Free consultation and analysis
Before the actual treatment can begin, we conduct a free consultation. This is important for several reasons. On the one hand, it is important that you know how the treatment should proceed and with which technology a removal of the pubic hair is sensible. The innovative XENOgel Technology or rather a depilation laser? For this purpose, our specialist staff will perform an analysis of your skin and hair. Especially in the intimate area every woman can feel a certain shame, because it is the most private area of the body. Don't worry, our specialist staff is also very attentive in the area of discretion. If you have any questions, you should receive the answers to them during the consultation. Does hair removal hurt in the intimate area? How long does it take for the hair to disappear? Our specialist staff will be happy to answer all your questions.

Your treatment in Mannheim
Once all your questions have been resolved and you have decided to remove your hair in the bikini zone or in the intimate area, the treatment can begin. Although it is a very private area, some women have tattoos on their intimate parts of the body. To prevent them from interacting with the light, tattoos are covered before the treatment. This also applies to birthmarks. Once the skin on Venus Hill is properly prepared, the treatment can begin with the technology chosen during the consultation as the most suitable technique for you. Sit back and enjoy the treatment with our professional staff. Look forward to a hair-free future.